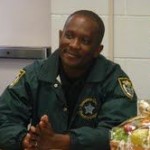 Corporal Gary Lee Edwards
On July 11, 1967, Gary Lee Edwards entered the world. Although he was a precious gift to his mother, Ruthie, even she could not foresee the potential for greatness in him or the selfless ways he would serve his family and community.
Gary was born to his proud mother, Mrs. Ruthie M. Edwards McClendon and the late Mr. Leon Waters. He was a lifelong member of the Live Oak community. Gary attended Suwannee County Public Schools and was a member of the Suwannee High School Class of 1985. While in high school, he met the love of his life, Robyne.
Upon graduating from high school, Gary enrolled in Edward Waters College. He later transferred and received his Associate of Arts Degree from Lake City Community College.
In 1994, Gary began working for the Suwannee County Sheriff's Department as a 911 Dispatcher. Something about Gary impressed Sheriff Robert Leonard. Sheriff Leonard offered Gary the opportunity to serve his community as a deputy sheriff and transferred him to Suwannee Middle School. Gary completed the law enforcement academy in April 1995 and served as a School Resource Officer since. In 2005, Gary was promoted to corporal.
On August 5, 1995, Gary and Robyne were married. Together they have reared their two beautiful daughters, Toi and Tyla and recently were blessed with precious Ian, their grandson
Gary was a member of Allen Chapel AME Church where he served his church as a trustee, and in any capacity needed.
As an active and visible member of the community, Gary served in many facets. He was called and equipped to protect and serve, and he went beyond his call of duty. The children of this community were important to him, and wanted to see each one succeed. Gary served as a coach of many sports for Suwannee Middle School, Suwannee Parks and Recreation, and PAL. He was the Suwannee County Director of PAL (Police Athletic League) for six years. Gary was also the head coach for the SMS football team. Gary was honored as the Suwannee County School Board District School Related Employee of the Year twice in his tenure as the SMS School Resource Officer. Gary served as the Worshipful Master of Live Oak City Masonic Lodge #21.
On Sunday, May 22, 2011, Gary was called home. "Gary", "Baby", "Daddy", "Son", "Unc", "Po Boy", "Fly", "Coach Edwards", "Brother Edwards", "O.E." will live on in his family, friends, colleagues, and the children he touched.